Caravan, 1971
What do you get when you get "Jumping Jack" Jeetendra, sixties comedy queen Asha "Baby Got Back" Parekh, not one but two classic Bollywood vamps, an appealing child actor, a band of gypsies, a theater full of chickens, and some unforgettable tunes by R.D. Burman?

You get a film that is wholeheartedly and unabashedly basmatic, of course!

Caravan starts on an exciting note – the beginning is narrated by Sunita (Asha Parekh) who speeds down a winding mountain road only to crash dramatically. Sunita helpfully tells us about her husband, Rajan, who is a thief, a cheat, and a murderer – the consummate villain, it would seem. How basmatic already!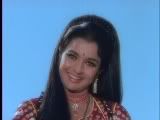 How could you murder such a sweetheart?

Fortunately for us, Sunita jumped out of her moving vehicle just in time, otherwise this would be a very short movie indeed. Sunita disguises herself as a village belle and hitches a ride to Bombay with a truck driver, Mohan (Jeetendra) and his perpetually drunk friend, Johnny. After the immortal Helen number "Piya tu ab to aaja," Sunita realizes that she must hightail it to Bangalore before she is caught by Rajan's men. She stows away in Mohan's truck once again, helped by Mohan's adorable little brother, Montu.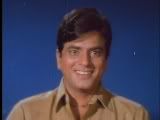 I tell you what, if this were 30 years ago, he'd be my fake-pretend movie boyfriend.
The truck, however, is not going to Bangalore directly; hired by a band of acting, dancing gypsies, Mohan is bound to take them wherever the road leads. Here we meet Nisha (Aruna Irani), the group's "special actress" who is intensely in love with Mohan and intensely jealous of Sunita, whom Mohan has taken on as a servant, unaware of her true identity. There's humor, there's dancing, there's secret identities and disguises, there's fighting and kidnapping and small children performing feats of strength – what's not to love?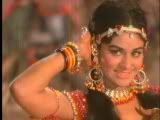 Sexy, psychotic, and a little too good with knives.
The funniest thing to me, however, is that Mohan considers himself a somewhat educated man, and speaks in garbled Hinglish. His lines are pretty basmatic: "Shame not coming you me!" or "Me calling you, ay? Not coming coming soon!"
The soundtrack alone should make you seek out this film. It's packed with memorable R.D. Burman tunes from the very start – from "Piya tu" and "Dilbar dil se" and "Chadhti jawani" to "Damiya Yeh Mai Kaha Aa Fasi," "Aab jo mile" and "Kitna pyaara wada," all the songs in this film are catchy, danceable, and otherwise awesomely awesome.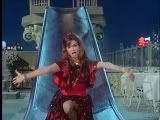 By the way, do you know what else is awesomely awesome? My new blog. Clearly all of my basmatic-ness can no longer be contained in just one.