Khakee, (2004)
In my last post, azuregoddess pointed out that perhaps I was a little critical of Akshay Kumar. Fortunately, the film Khakee forced me to re-evaluate my opinion of his sexiness.



Behold, the redeeming power of a police uniform: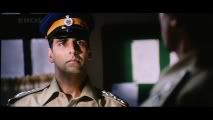 Still, it appeared the wardrobe masters had something against Akshay, because when he wasn't in khaki he was dressed in horribly ill-fitting trousers.
The crotch goes almost to his knees.
Can you say camel-toe? These jeans look painful.
Now back to Khakee. This is a gooooooood movie. It's not ever going to be a favorite of mine (it doesn't have the same rewatchability of, say, Bunty aur Babli), but it's definitely worth a rental. For the most part, the production value is high - the cinematography is sleek, the special effects are excellent (especially in the songs), the acting is well done, and the screenplay is tight (no plot holes here!).
The film follows a group of police officers assigned to transport a terrorist suspect (Atul Kulkarni) from Chadanghbad to Mumbai. DCP Anant Kumar Shrivastav (Amitabh Bachchan) leads the way, supported by the philandering Sr. Inspector Shekhar Verma (Akshay Kumar) and the idealistic new officer Sub Inspector Ashwin Gupte (Tusshar Kapoor). They are joined by Mahalakhsmi (Aiswarya Rai), an important witness. However, their journey is continually thwarted by Angre (Ajay Devgan), a former officer turned terrorist with a bone to pick with the DCP. As the film unfolds, so do the characters and their situation. Corruption within the government and police force are continually exposed, as bad guys turn out to be good guys and good guys turn out to be bad guys. To go into any more detail would be to spoil the film.
With as gooooooood as this movie is, it isn't without its flaws. The violent scenes smack of eighties Bollywood fight scenes, with people being shot two or three times and still running. And although I loved the songs, they weren't integrated very well at all. The transition from high-tension scenes to Lara Dutta shakin' her booty was just too jarring. While some characters had very convincing, very real arcs (Tusshar was especially impressive in expressing the disillusionment of his character), some characters weren't developed quite as well (for example, I loves me some Ajay Devgan, but he could have really done excellent with a little more meat on his character).
Still, I wholeheartedly recommend this film, although I'll never be able to listen to Kal Ho Naa Ho's theme song again without getting completely creeped out.