Dil Hai Tumhaara, (2002)
There are some actors that seem destined to play the odd one out in the love triangle. Two such actors, it seems to me, are Jimmy Shergill and Mahima Choudhary. Jimmy made his debut in Aditya Chopra's Mohabbatein, but I haven't seen him with a complete love story since (well, except Hum Tum, but he was rejected first). In her debut in Pardes, Mahima not only got the hero, but that hero was Shahrukh Khan - way to go, girl. But, again, since then, I haven't seen her in a stellar lead role. How funny, then, that both of these actors play the odd ones out in a love... quadrangle (?) in Dil Hai Tumhaara, headlined by Preity Zinta and Arjun Rampal.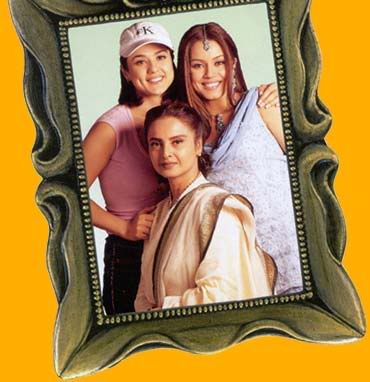 Dil Hai Tumhaara is primarily the story of Shalu (Preity) and her various relationships. She and her older sister Nimmi (Mahima) dote on one another. For a reason unbeknownst to Shalu, her mother (Rekha), has never been particularly fond of her. Shalu confides in her best friend, Sameer (Jimmy), who also happens to be a "world-class" puppeteer and is in love with Shalu. Enter Dev (Arjun), a wealthy factory owner who earns both Shalu and Nimmi's affections (Dev is nearly always flanked by two yes-men who wear name-tags that appropriately identify them as "C.E.O. 1" and "C.E.O. 2").

The songs, for the most part, are neither particularly good nor bad, except for maybe "Dil Laga Liya." Still, they're interesting because they blur the divide from the "song world" to the "real world" rather well. In one song, Dev is fantasizing about "dream Shalu," while the song occasionally cuts to the real Shalu and how she deals with a daydreaming Dev. In another, while both Shalu and Nimmi are fantasizing about Sameer, one sister accidentally frolics into the other's daydream. The set design is pretty Pee-Wee's Playhouse, especially the forest where Sameer lives. The film is mostly light-hearted, with caricatures as villains that never pose any real threat against the clever Shalu. There are some moments of real drama, however, mostly between Shalu and her mother, and these scenes are mostly well-acted and convincing.

So, bottom line: not the best movie ever, but enjoyable nonetheless - barring puppetphobiacs, of course. I have to agree with BrianBkyn's ugly baby metaphor. "Homely, but cute."