Mehndi, (1998)
Don't let the songs menu, vaguely reminiscent of DDLJ, confuse you.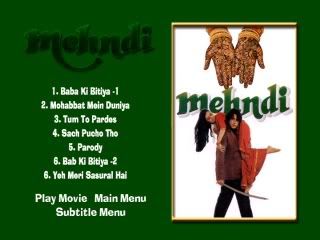 In the same vein as Anjaam and Karan Arjun, Mehndi takes revenge to a whole new level. The movie stars Rani Mukherjee as the slighted daughter-in-law who goes "Durga incarnate" on everybody's ass.
Because this was such an awful movie, I'm not going to write a review for it. However, if you're interested, I'm going to include a detailed summary, because then there will be no reason for you to ever see it. And with that summary I will include pictures, or else you won't believe what the hell goes on in this film.
Although the movie does have a very clear (though unfunny) comedy track, I thought some of the subtitles were hilarious. Whoever made this DVD took many creative liberties with both grammar and spelling, constantly interchanging "than" and "then" or swapping vowels in words.
Before the credits even roll, the movie begins like this: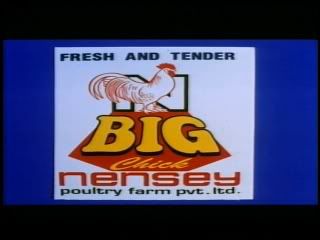 Yeah, I have no idea either.
There are also so many supporting characters that it's hard to keep track of them. Please refer back to this list while reading the summary if/when you get confused.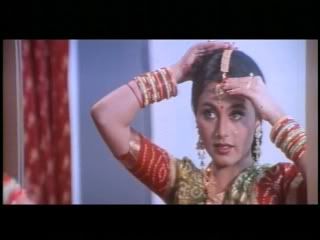 This is Pooja (Rani Mukherjee). She is newly married. Her life will go to shit within the next 15 minutes of the film.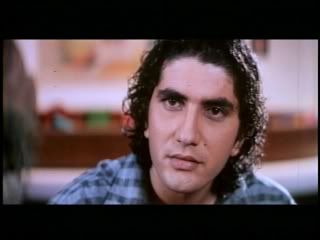 Niranjan is Pooja's husband. He needs 10 lakhs to buy a factory and plans to get it from Pooja's father. If only he'd have saved up instead of wasting all that money on whores and bribery...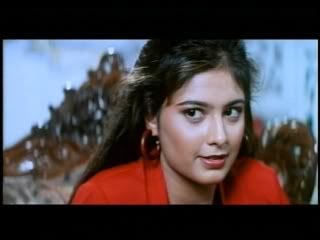 This is Neha, Pooja's little sister. She is a very cute, very pretty actress that I've never seen before. Niranjan thinks so too. Unfortunately, Niranjan is a little too interested in Neha for anyone's comfort.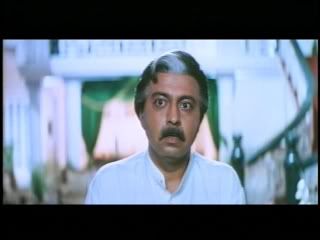 Pooja and Neha's dad (I never caught his name, and I'm not about to watch the movie again) is a poor yet loving father; he mortgaged the house for Pooja's wedding.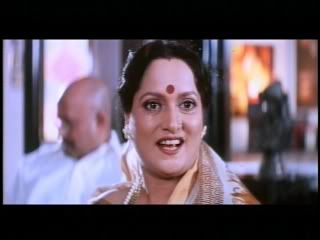 Mrs. Choudry is a big bitch. Her primary concern is that her son gets his way.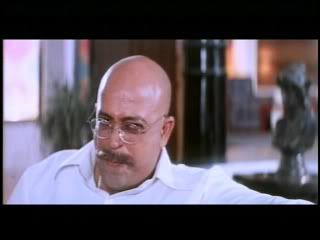 Mr. Choudry runs a business selling wood for pyres... perhaps that will come in handy later in the movie?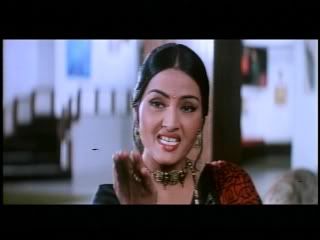 Kalpita is the eldest Choudry daughter; she takes after her mother in the bitch department.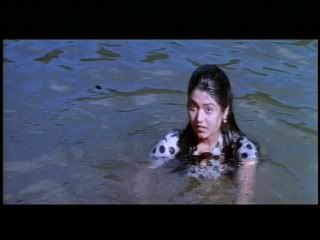 I only think her name is Vandana. She's the youngest Choudry daughter who disappears towards the end of the movie.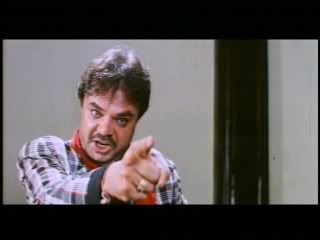 Ankush Choudry is Kalpita's husband and a "nothing buy a drugy" according to Mrs. Choudry. What does that mean in English, though?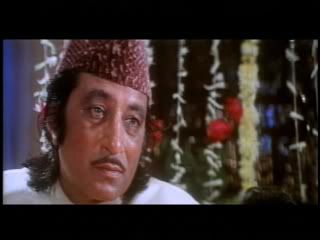 I never caught this character's name, so hereafter he will be referred to as Shakti Kapoor. He works for Mr. Choudry and is also in charge of the comedy track. There is a medley in this movie where he impersonates Anil Kapoor in 1942: A Love Story.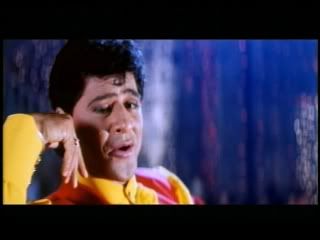 Bilu is, according to the subtitles, a "transexual." Really, even if it's not the right term, at least you could spell it correctly.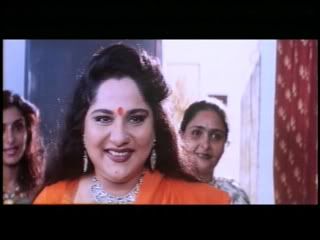 I have no idea what this woman's name is - I don't know the actress or the character. She doesn't do much in regards to the plot, but she does have some snarky remarks to make and lays down the law when something's not right. In other words, I think she's a good guy. I got a big kick out of her most of the time.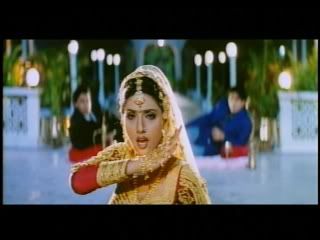 Rupa is everyone's favorite whore. Sacrificed for the sake of a plot twist.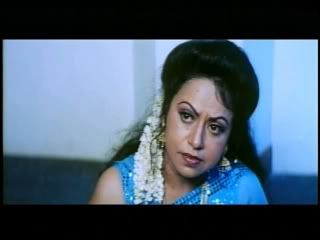 Meena Bai runs a whorehouse. Kills Rupa, but Niranjan is accused of the crime.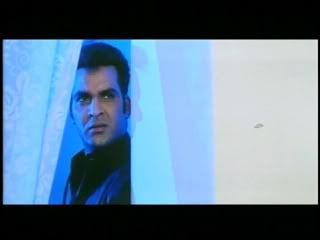 The plot-twist guy, he takes a picture of Meena Bai killing Rupa.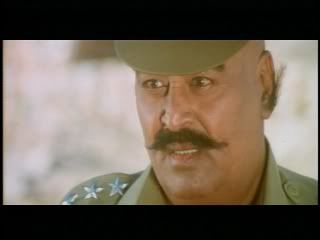 He plays an important role in the subplot of the last hour of the movie. Note the hairy ears.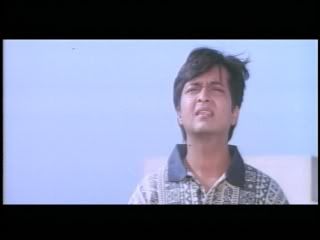 This guy is really good at imitating a crow's caw. That's about it for him.
The movie starts with a song – Pooja is getting married, and her sister and father are very sad to see her go. In the next scene we are introduced to her new in-laws. It's evident within moments that they are a money-grubbing, greedy, disdainful, petty, arrogant, and unattractive bunch of people.
When Niranjan learns that his father-in-law has no more money to give, the Choudrys decide to drive Pooja out – humiliating her, making her do all the work, verbally abusing her.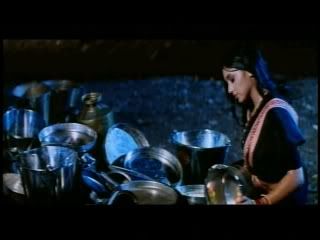 Old habits die hard for Niranjan. He heads to Meena Bai's whorehouse to meet with Rupa, but she is murdered that night and Niranjan is blamed. Niranjan is thrown into jail, and the man who has the evidence to free him insists on one night with Pooja in exchange for the evidence. (It turns out later that Niranjan refused this man's sister and she committed suicide, and he vowed never to let Niranjan lead "a happily married life.") What follows is an interesting exchange where Durga-Pooja talks herself into it – bringing a bottle of poison.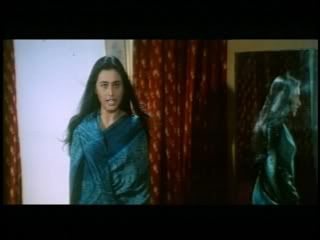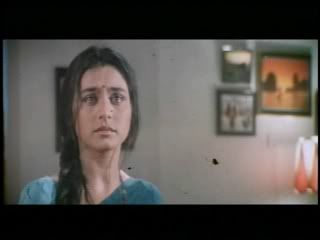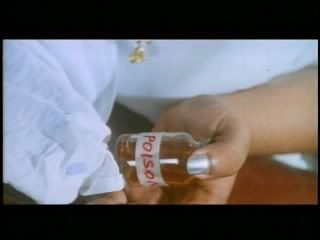 However, on that night nothing happens. Her in-laws aren't going to believe her though, and beat her and physically throw her out. Pooja staggers home, where she collapses.

While Pooja is in the hospital, Niranjan goes to court to get a divorce. Pooja's father demands that he drop the case, but is gunned down in court by Ankush. While circling her father's pyre, Pooja makes a new set of vows – she realizes that her husband is "the devil" and her in-laws "are sin," so she promises to wreak havoc. "I will kill them all very slowly," she says, "I will vanish them!"
Who needs Durga-Pooja to destroy you, though, when you can do a much better job of it yourself? When Ankush is put on trial he gets so agitated with Pooja (who, fortunately, is a lawyer) that he starts shooting in the courtroom again, and Pooja kills him in self-defense. This happens while Niranjan is supposed to be getting remarried; not surprisingly, the bride's father calls it off, despite Mr. Choudry's pleas of "Please thing of our reputation."
After this, Niranjan still plans to buy the factory but is still short on cash. Mrs. Choudry takes the money for her son from Mr. Choudry's safe. When Mr. Choudry discovers that it's missing, he blames Bilu, who is taken to the police station for prompt beatings and electrocutions. When it is revealed what really happened to the money, the police officer tells Niranjan and Mr. Choudry that they could be arrested for filing a false report. Niranjan bribes the police officer to keep Bilu in jail. However, Pooja and the villagers make the officer release Bilu and arrest Niranjan for a day.
Having lost their respect, Pooja rallies the villagers against them. In a fun little dance number the whole village comes out to throw eggs, tomatoes, dirt, and whatever else at the family.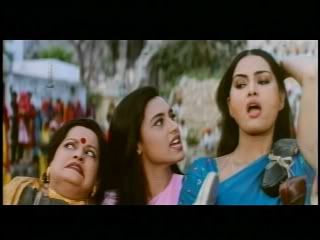 To try and regain their respect, the family volunteers to be in a play. While the play is going on, however, Vandana is off by herself swimming. Bilu, just released from jail, happens to find her and rapes her.
If you think this movie has been ridiculous so far, the ending trumps everything. The police officer is determined to find Bilu, knowing this: Bilu loves to dance, there's always dancing at engagements, and Neha's getting engaged today. Therefore, Bilu must be at Neha's engagement! And sure enough, Neha and Bilu are getting down to some Hum Aapke Hain Koun tunes while Pooja is at the temple. While the police officer handcuffs Bilu to the car and makes him run alongside until they reach the desert, Niranjan goes to the temple to kidnap Pooja.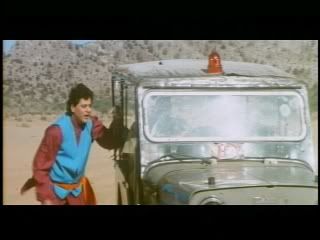 Once they reach the desert, the officer releases Bilu, only to shoot him in the back as he runs away.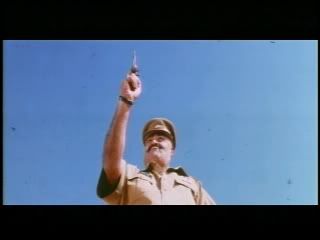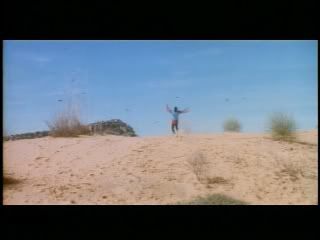 Unfortunately for the officer, Bilu must have super-powers, because he grabs the officer from behind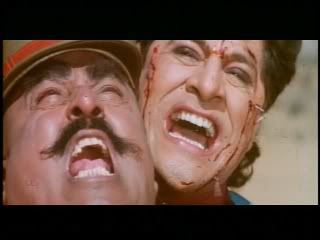 and forces him off a cliff, impaling him on the strategically placed sharp poles below.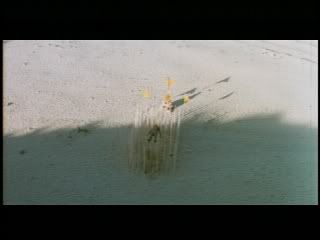 Meanwhile, in the very same desert, the Choudrys (minus Vandana, who may or may not have gone swimming again) are preparing to cremate Pooja alive. Pooja is prepared to die, but when her sister arrives begging and pleading, Niranjan tells her that she will be his whore. This pisses Pooja off. Using her Durga power, she busts out of her funeral pyre.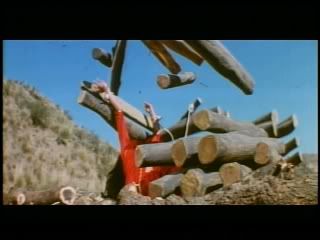 At the same time, Bilu shows up with a gun, forcing Niranjan to release Neha. In a moment of bad thinking, he hands the gun to Durga-Pooja. She threatens to shoot both Bilu (for raping a girl) and Niranjan, for sucking at life.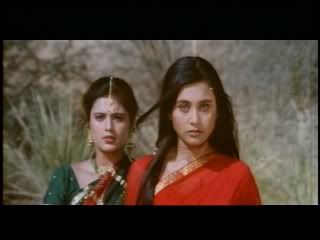 Mrs. Choudry pleads with Pooja, in a pivotal scene where the subtitles stop working. Durga-Pooja throws the gun down angrily.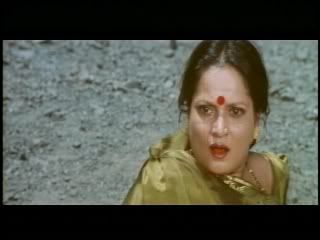 Bilu decides this is a good time to get away, but Niranjan runs after him. In a moment of complete and utter inconsistency, Niranjan stabs Bilu with a sword that appeared sticking out of the ground only a second before.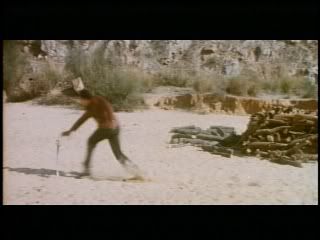 Before dying, however, Bilu starts choking Niranjan.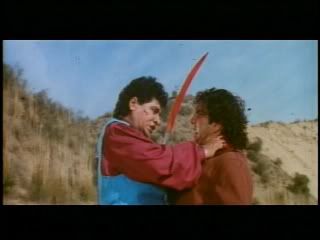 Panicked, Mrs. Choudry grabs the gun and fires at Bilu, shooting her own son in the forehead. Niranjan does not die instantly, however. He staggers over to Pooja and kneels before her. Suddenly he realizes what we've known all along: Pooja is Durga. Uh-duh.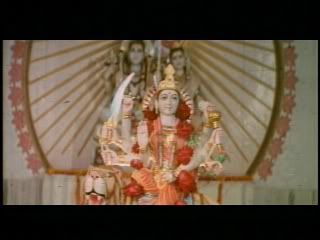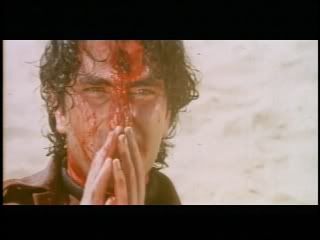 Too little, too late, Niranjan. Please just die already.
To end on the comedic note, here are some gems from the subtitles you might enjoy.
"Looks doesn't matter to me."
"I mother does not feed her baby until it cries."
"Always go threw with your promises. Ones who don't do it, get a great sin."
"I will vanish them."
"Looks like the whole f
Amily drank some kind of potion."
"But Niranjan didn't except her."
"My father and baby is no more."
"Your lectures can't do nothing to me."
"When women cry that means there weak."
"Every things her fault."
"She probably filled poison in that officer."
"Humans figth til they lose."
"But I havn't lost yet."
"I thought you were a good man a
Ccording to the astrologer."
"I'll pull your tounge out."
"You cover up your daugthers"
"Arn't you scared of dieing?"
"It taste really good!"
"Out of no were a dog came…"
"She told me not to waist the milk."
"She just sits he sucking blood."
"He was nothing buy a drugy."