The Hero: Love Story of a Spy (2003); Soldier (1998); Dillagi (1999)
I've watched so many movies lately that I've decided to give you a special treat and bring you three reviews and once. I am proud to present: Sunny versus Bobby – Deol Smackdown 2005! Which Deol will come out on top?

Let's start by examining The Hero: Love Story of a Spy (2003), starring the elder Deol brother. While this movie is essentially a Pakistan-bashing, violence-driven, incoherent waste of time, it is impossible to deny that it is entertaining.

While the movie does not need a plot, the producers decided to throw one in for kicks. Sunny Deol plays Major Arun Khanna, India's top spy. Apparently, "spying" in India is synonymous with Halloween in the United States – the job consists of dressing up in costumes and makeup and doling out treats to villagers and tricks to baddies.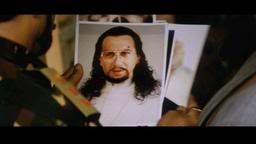 Sunny Deol as Jesus.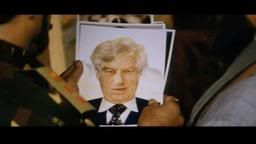 Sunny Deol as Prince Charles.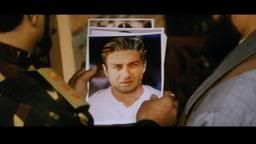 Sunny Deol as Alec Baldwin.
After successfully halting one of Amrish Puri's evil plots, Khanna is sent

to Kashmir to mimic an army officer. Enter irrepressibly cute shepherdess Reshma (Preity Zinta), who helps Khanna foil terrorist missions in the village. In return, Khanna pays for her education and buys her clothes and jewelry (can you say sugar daddy?). Eventually, it turns out that Reshma is exactly who Khanna needs to foil Amrish Puri's next dastardly plot, and she is sent across the border to spy. Of course, the best laid plans go awry and Sunny eventually has to rescue Reshma from hordes of Pakistani soldiers, apparently using her ass to shielf himself from gunfire.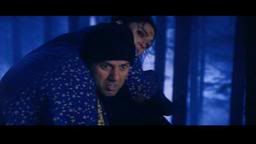 Soon after there's a celebration and Khanna announces his engagement to Reshma and they sing and dance about it. Their happiness is short-lived, however, as terrorists attack the party. Khanna lives and returns to work as a spy, while Reshma washes up later in the movie. Khanna goes to Canada and, in order to continue foiling Amrish Puri's plans, romances and marries Dr. Shaheen Zakaria (Priyanka Chopra), who in a "shocking" coincidence is also helping Reshma rehabilitate (really, is anyone even remotely surprised?). Because we, the viewers, know that Reshma and Khanna will end up together eventually, from the moment Shaheen and Khanna marry we know this isn't going to end well for poor Priyanka Chopra. And it doesn't – there's a climactic shootout involving trains, mountains, helicopters, and more Canadians than you could shake a stick at.
Sorry to interrupt your regularly scheduled programming: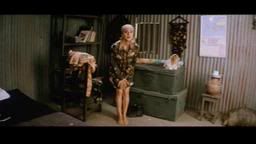 It's no pants o'clock!
Back to you in the studio.
While this movie is a blatant Paki-basher, it's unabashed about it, unlike and of J.P. Dutta's (Refugee, Border) work. This film is also one of the most expensive films India has ever produced, meaning there is no lack of eye candy (except maybe the hero department) whether in the scenery, the costumes, the dancing, or even the ridiculous spy stuff.
1998's Soldier, like The Hero, stars another Deol and the same Preity Zinta. This mostly-amusing thriller is from Abbas-Mustan, the underwold-connected duo directors that also brought you similar ridiculous-but-still-enjoyable-movies such as Baadshah and Chori Chori Chupke Chupke. Soldier, like The Hero, also has an irrelevant plot as an excuse to show Bobby Deol cozying up to Zinta and shooting bad guys mercilessly. It also is sure to incorporate some of the greatest Bollywood clichés ever: orphan exacting revenge, over the top violence, Johnny Lever, boy annoying girl until she loves him, and not one, but two suffering mothers!

The movie opens with the important exposition – three corrupt army officers steal the guns and supplies they transport in order to sell them to the enemies, killing the good army officer who tries to stop them. They manage to pin the robbery on the dead guy, but his widow and son staunchly believe in his innocence. Thus the woman is sentenced to a life of suffering, whereas the son is destined to exact revenge for his father's death. Of course, son is also destined to fall in love with daughter of bad guy (all of this goes without saying, really). A few car stunts, brutal murders, dogs with bad hairstyles and other assorted hijinks later, Bobby does, in fact, kill everybody except the mothers, Zinta, and, unfortunately, Johnny Lever.

This movie exceeds at two things I previously though were mutually exclusive in a film – excessive violence and excessive goofiness. Throw in a few danceable tunes and whammo! Bollywood entertainment, Abbas-Mustan style. Although I found The Hero ultimately more entertaining (because of its slicker cinematography, better comic relief, bigger doses of angst, etc.) Bobby Deol is easier on the eyes than his older brother (because of his slightly less gravity-defying hairstyle.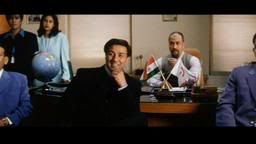 Look, it's got WINGS.
<>
Of course, the real test of Deol versus Deol is Dillagi (1999), which stars both brothers and is also Sunny's directorial debut. Not only is the plot borrowed from the Hollywood classic Sabrina, but many of the songs are blatant ripoffs of American riffs such as "Mony Mony" by Tommy James and the Shondells (later done by Billy Idol as well) and Jimmy Sommerville's "Can't Take My Eyes Off of You." Unfortunately, the DVD is only sparsely subtitled meaning that I had to rely on my recollection of Sabrina to determine what was going on and then I get distracted by plagiarism. Great.

For those of you who haven't seen Sabrina, Dillagi, or Sabrina's earlier Hindi remake Yeh Dillagi, the film is about two brothers – one is all work (Sunny as Ranvir) and one is all play (Bobby as Rocky). Of course, they both end up falling for the same girl (Urmila Matondkar as Shalini).

Although he agrees to a marriage with a girl from his village in Punjab, Ranvir sees Shalini at a stoplight and she intrigues him. Later he sees her sing and dance at a function and he proposes marriage to her family. At the same time, Shalini attends school with Rocky, and they hang out together (to plagiarize songs, I guess). Despite warnings from her cousins and classmates, Shalini falls for Rocky, who treats people like toys and important things like "love" like games. She tells this to Ranvir, who lets her go. When she makes her love known to Rocky, however, he flips the shit. Heartbroken, Shalini eventually starts to see Ranvir again, while Rocky slowly realizes his love for her. When Rocky learns there's another man in Shalini's life, he flips the shit again and vows to kill him. Too bad I can't explain further, but at this point the subtitles decided they had better movies to translate and copped out completely. It all boils down to a climactic moment when Rocky finds Shalini at a restaurant with his brother and flips the shit again. Eventually somebody ends up at the hospital, one brother reneges on his love, and Preity Zinta shows up again to console the loser. Happy ending for all.

You'd be better off finding the Audrey Hepburn version. The subtitles are probably a lot more reliable, and "Mony Mony" hadn't even been written when it came out.

In the end, it is clear that Sunny has more talent than Bobby, but loses in the looks department. Quite frankly, I'd rather have a non-acting chunk of eye-candy than either of these hairstyle-challenged fellas any day. In the smackdown, I am the only clear loser, having spent nine hours watching them when there are so many pictures of Arjun Rampal on the internet in need of downloading.