Bachke Rehna Re Baba, (2005)
A woman's sexuality is a powerful thing. I learned this when, wearing the right combination of short skirt and tall boots, I caused a fender-bender in Manhattan. Of course, whether a woman uses her powers for good or for awesome is up to her. However, Bachke Rehna Re Baba is unusual because it showcases two awesomely sexy actresses playing two awesomely sexy women, all of whom seem to use their powers to create a genuinely awful movie.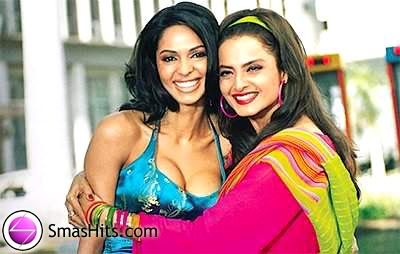 For starters, the film stars two of the most attractive women in Bollywood - the evergreen Rekha and the "bold" Mallika Sherawat. It's difficult to decide who comes off worse in this film. While Rekha's acting skills are superb and she manages to look sexy even in the most colorblind, frumpy outfits, the role is utterly banal. Mallika has more of a chance to excel and expose, but manages only to do the latter. It's sad to see that she has such a pretty face, and yet uses her body as her most valuable asset (because, unfortunately, her acting skills aren't doing much for her).

The film follows an aunt-neice con-artist team, Rukhmini (Rekha) and Padmini (Mallika). Rekha traps rich old men in marriage, while Padmini seduces them into adultery, just in time for Rukhmini to catch them. Sound familiar? It's the same old story of Heartbreakers (2001). Of course, Padmini would rather split, but Rukhmini persuades her to do one last con - trapping an NRI in Mauritius. Paresh Rawal, Satish Shah, and newcomer Karan Khanna, nephew of Vinod and cousin of Akshay and Rahul.

The film has too many loose ends that are never resolved. In once scene, Rukhmini says that the money they con goes to settling her father's debt, a debt which is never explained or even mentioned again. Also, supposedly Rukhmini and Padmini were originally intended to be mother and daughter, but changed to aunt and niece. I think they filmed some important scenes before this was changed, which makes for an uneven ride.

The only positive part of this film is its title song, an enjoyably danceable tract. Rekha takes to the microphone for one number ("Eiffel Tower"), which proves to be the most annoying part of the entire movie.

My primary concern is this: Why did Rekha, an evergreen icon of Bollywood, do this film? In an industry where Amitabh Bachchan is earning acclaim playing a variety of roles, and where Govinda and Anil Kapoor still play heroes, why is an attractive, fifty-one-year-old actress with so much acting skill and star power in a role like this? She's just as capable of playing a sign-language teacher or doctor or orphanage director or something at least mildly intelligent and interesting. (BTW, Govinda is three years younger than Rekha, and Anil Kapoor is four years younger).

Categorize this one under "painful to watch."